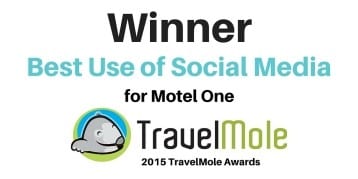 Motel One is an exciting, fast growing hotel brand with more than 50 hotels in Europe Ginger Juice has partnered with Lemongrass to deliver a highly effective Twitter and Instagram presence to build awareness, create interest, provide customer service and deliver sales. Key results:
From 0-10,000 Instagram followers in 18 months

From 0-8,000 Twitter followers in 18 months

1000+ social media engagements per month

Multiple campaigns

Personalised, multi-language responses
We have worked on this account since January 2015 and since that time we have delivered numerous successful campaigns. For example, in February 2015 we launched #MotelOneLondon to promote the opening of the new London property. The campaign exceeded expectation and resulted in 2,500 new followers and 3,500 Retweets in just 4 weeks. We also launched #OneHappyGuest to encourage guests to share their Motel One experience.  This fun competition proved immensely popular with many bright and colourful entries on Instagram, Twitter and Facebook.