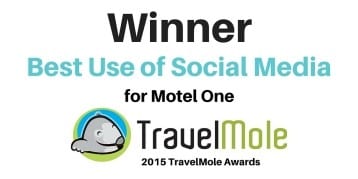 Motel One is an exciting, fast growing hotel brand with more than 50 hotels in Europe Ginger Juice provided social media services for Motel One for 4 years between Janurary 2015 and March 2019 (social media was taken in-house). During those four years we launched Motel One's Instagram and Twitter profiles and built the profiles via good quality organic activity.
Key results:
From 0-25,000 Instagram followers in 4 years

From 0-10,000 Twitter followers in 4 years

1 million Instagram impression (March 2019)


14,000 Instagram engagements (March 2019)

Multiple campaigns

Personalised, multi-language responses
We delivered numerous successful campaigns. For example, in February 2015 we launched #MotelOneLondon to promote the opening of the new London property. The campaign exceeded expectation and resulted in 2,500 new followers and 3,500 Retweets in just 4 weeks. We also launched #OneHappyGuest to encourage guests to share their Motel One experience.  This fun competition proved immensely popular with many bright and colourful entries on Instagram, Twitter and Facebook. Our work for Motel One was recognised in 2015 with a Travelmole Awards for 'Best Use of Social Media'.